Our regular Saturday morning run on the 31st April was a great success
Lots of happy walkers and runners came to the Easter fun run, it was good to welcome the families of our regular runners and to meet new faces.  The children sped along the trail and really deserved their Easter eggs (as did all the runners/walkers – great effort on a warm morning). Spot prizes were awarded and we all enjoyed the Sausage Sizzle.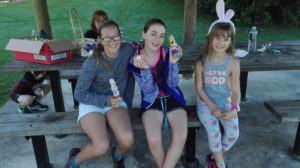 Easter Fun Run
Same time and place as normal (8am at the Stone Store Basin car park). We'll not be doing times that week but we will be handing out free Easter Eggs to everyone who completes either the 5km or 8km circuits. There will also be spot prizes and a sausage sizzle (raising funds for the Muscular Dystrophy Association)
Pass the word, all are welcome, it will be a perfect activity to get the family out and active.