Our objective is to link the diverse groups from our area who operate under the "Striders" umbrella.
When Striders was incorporated back in 1997 its listed objectives included:
"To foster, promote, encourage and assist
athletic activity of every kind"
Presently "Striders Inc." organises a programme of informal social Sunday cycle rides, including time trials normally on the first Sunday of the month.  There is a running group which meets every Saturday morning, a Wednesday walking group and multisport events are also organised by "Striders Inc".
---
Striders Club Rooms at Kingston House, Kerikeri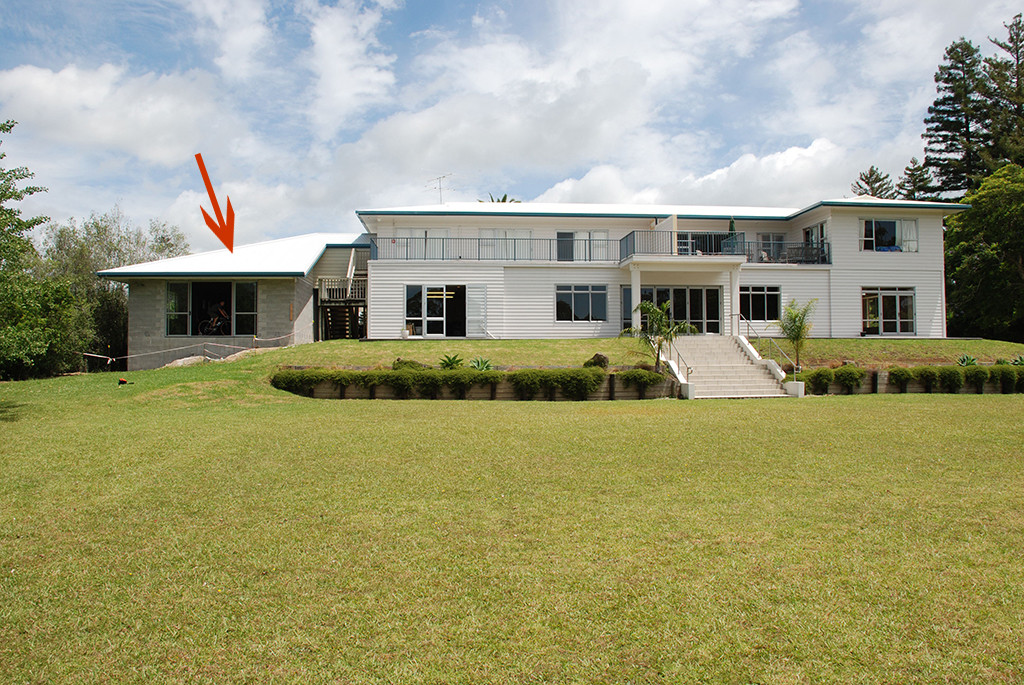 Striders club rooms are located in a part of a new very smart $100,000 purpose built building attached to the Kingston House Community Trust facility.
The background to this move
The Kerikeri Indoor rowing group has successfully initiated and driven a project through to fruition to provide a club rooms expressly for using indoor rowing machines.
This building is now complete, and is located and built onto the existing "Kingston House" Trust facility. Funding for this project started with $5000.00 from the Indoor Rowing Club and the remainder has been sourced from a number of community funding agencies and to date this project has cost in excess of $90,000.00.
Striders was approached a few years ago with a proposal to put some money into this venture in consideration to having access to this facility as a base for our club and somewhere that we may use to set up indoor cycle training facilities and general meetings. Striders agreed in principle to a contribution of $15,000.00, and we have now honoured this commitment. Striders are now joint equal partners, and this facility is for the exclusive use of both clubs. Both Striders and the Indoor rowers are represented on the Kingston House Community Trust Board which administers this community facility.
The clubrooms will have a secure office for storage of club assets and records. The big room is set up for the training machines – both rowing and cycle trainers. Striders have invested in five new indoor cycle trainers that live permanently in our club rooms and we hope to get winter spin groups going. It also provides a fantastic wet Sunday option for those days (all too frequent) when it is too wet to be on the roads.
The facility is available to all Striders members and we will be actively encouraging our members to take advantage of this indoor training facility.
Membership is really good value. Unlike most gyms you can pick and choose when to come via keycode or key access.
Facilities include:
At the beginning of February 2022 a brand new Functional Trainer was added to the clubroom. This is a multi-purpose trainer bringing all-round benefits for our clubroom members. There are accompanying posters (and an instruction manual) and training will be given on this machine, as well as the others, during inductions.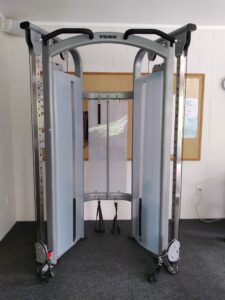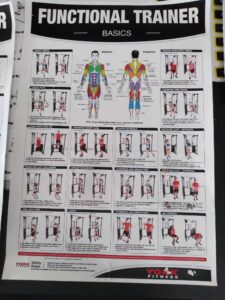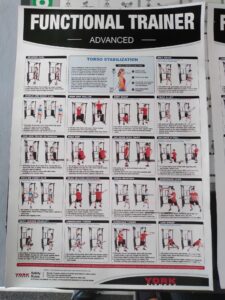 Alongside this we have:
– 2 Rowing machines
– 2 Running/walking treadmills
– 2 Stationary bikes
– 6 turbo trainers (bring your own bike)
– Leg and upper body exercise machine
– Basic bench with weights
– Abdominal crunch apparatus
We also have a cross trainer, kettle weights, punch bag  and suspension trainer.
There's a kitchen, 2 showers & changing room, TV & DVD to while away the hours whilst rowing or cycling!