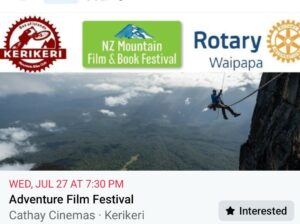 July 27th is now sold out
August 3rd still available
Best International Films Night
Total time ~100 minutes
Follow The Light (4 mins) Director Pierre Henni, France. Sunsets over dramatic landscapes to the illumination of hot air balloons and the warm ambience of the Middle East
 Ô'Parizad (36 mins) Director Guillaume Pierrel, France, subtitles.
In the 70's, the pioneers explored the most breathtaking mountains in the Alps and Himalayas; 45 years later, the same passion has remained intact and skiers decide to return on the trail of their ancestors. Their goal is to ski an 8,000m Himalayan giant.
 On the Edge (14 mins) Director Katie Falkenberg, USA. Five women set out on an eight day, 65-mile packrafting journey deep in the wilderness of Montana. Stunning scenery, challenging terrain, heavy packs, and extreme remoteness bring the group to their physical edge. 
Legacy On The Muir (25 mins) Director Max Buschini, USA. Born and raised as a Yosemite Valley climber, Tom Herbert revisits his father's footsteps on his famous El Capitan route The Muir Wall.
House of The Gods (44 mins) Director Matt Pycroft, UK. The great northern prow of Mount Roraima soars from the depths of the Amazon rainforest like the prow of a gigantic ship, shrouded in cloud, drenched by torrential rain and guarded by vertical jungle, deep mud and overhanging cliffs. Follow Leo Houlding and team on their real-world quest through 100km of untracked jungle, into a unique slime forest and up the desperately steep big wall.