You may be interested in the following events:
Running:
2022
8/9th October – tentative new date for Born to Run Adventure Race
7th August –  Kaitaia Run Walk 21.1km | 11km | 4km
25th June – Matariki Moonlight Marathon/Half Marathon (tentative event, details to be advised)
24th June – 90 Mile Beach https://thmct.co.nz/challenge-options/
12th June – Bay of Islands Run/Walk – 21.1km | 8.7km | 6km
5th June – Hatea Run Matariki Forest Challenge https://wwww.runningcalendar.co.nz/event/hatea-run-matariki-forest-challenge/
28th May – Striders 24hour Challenge (Kerikeri Basin – starts at 8.00 am Saturday, finishes 8.00am Sunday.  As many (or few) loops as you want in 24hrs, approx 8.8km per loop)
15th May –Parihaka Kill Hill Challenge – https://www.runningcalendar.co.nz/event/parihaka-hill-kill
W/E 25th April – Born to Run Adventure Race Postponed till October
27th March – Parihaka Trail Run, Whangarei https://www.runparihaka.co.nz
26th March – Bill's Orienteering day, see below for details. A great opportunity to try something different, but will suit all abilities.  This will be our 'Destination Run' for the month.
18-20 March – Camping weekend at Urupukapuka Island.  Contact Rene if you are interested or would like to find out more details: resacobi2@gmail.com messenger BillRene Miles or mobile 021 419 471.  If you are thinking of going talk to Rene by Thursday 10th March.
Multisport
2022
https://www.sporty.co.nz/whorienteering/
Talk to Bill if you are interested in going to any of these events:
Winter 2 – Sunday 8th May – Taheke
Winter 3 – Saturday 18th June – Blue Goose Night Event
Winter 4 – Sunday 31st July – City Rogaine
Winter 5 – Sunday 21st August – Smugglers
Winter 6 – Sunday 18th September – Lovells
Winter 7 – Sunday 6th November – Flygers
March 26th – Orienteering day. A day designed for total beginners to get a taste and experienced runners will also get a good challenge.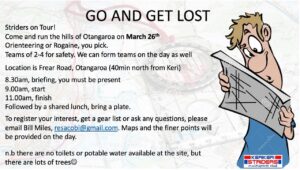 Race Walking:
We have received an email from Gary Little re Race Walking:
The Colgate Games committee has now included race walking in the 2022 Games. Should you wish to have some prior instruction for your athletes, please let me know.
It is possible that a short coaching session in Whangarei might be a worthwhile proposition. However, I am located in Kaitaia.
Gary Little and Asta Wistrand
Contact Gary at 09 929 6504, mob 021 087 00046 regarding race walking or running coaching.
Our small remote home is a quite unique Far North delight with native trees and birds all around us at 757 Diggers Valley Road, Kaitaia